Does this look familiar?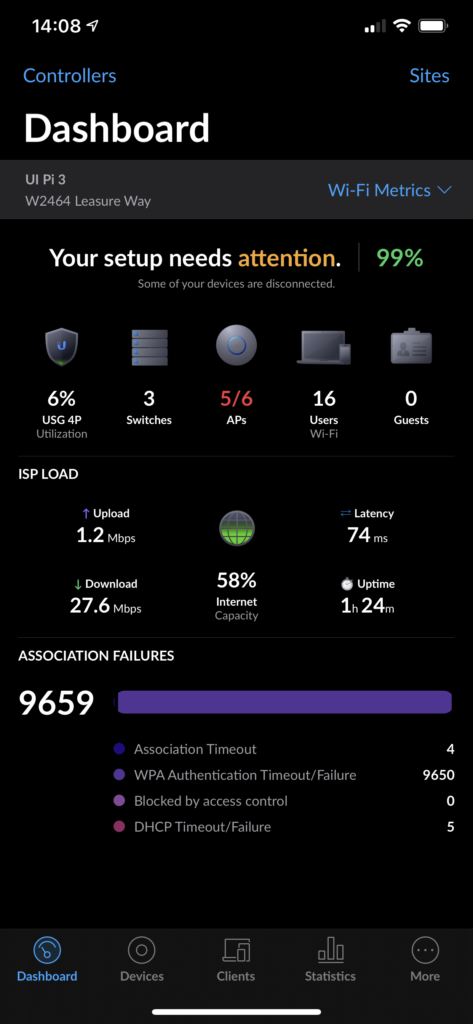 If you're like me, then you probably searched the web for a clue, maybe found some threads in the UI.com Community Forums, but ultimately left feeling pretty uneducated about what it number means and anything you should do about it.
Good news! This number being high isn't going to negatively impact the performance of your network, but it also isn't good. It's the equivalent of a denial-of-service attack. Some wireless device is trying and failing to connect to your network, over and over again.
This happened to me and my home network after tuning my WiFi Access Point channels and Hue Bridge channels, trying to avoid as much interference between them as possible. After a few hours of RF scans and reconfigurations triggering reboots, I saw this number skyrocket from single-digits to over 10k eventually. (Keep in mind that I'd only switched WiFi channels, and did not rename the SSID or password, and didn't enable or disable any 2.4 or 5 gigahertz bands.)
What happened?
The SSID and Passwords on all devices in my home were set and working totally fine before, so why all of a sudden would rebooting a few access points cause problems? My best guess is that something related to DTIM simply prevented a properly configured wireless client from successfully reconnecting to the network, but I'm honestly not really sure.
What should I do?
If you are in control of the wireless devices that connect to your network (like a home network or a small office) then this is completely within your power to fix.
All you need to do is figure out which wireless device(s) are trying and failing.
The Unifi Network Controller software does not give you any tools or logs to help you here. You'll simply need to deduce on your own what they are.
Depending on the number and types of devices on your network, this deduction/elimination process may not be super simple. I started with problematic devices first, but resetting them didn't help. I used the Unifi Network Controller Client list to go through them one at a time and check them manually.
My iPad Pro was successfully connected to my wireless network according to Network Controller, and that iPad was showing up as a connected HomeKit hub on Standby, so clearly it's connecting, right?
The first time I had this happen, it was a Nintendo 3DS XL. But recently, it was that darned iPad Pro! Touching the screen revealed it was connected to LTE, and not WiFi. I opened the Settings app and went to WiFi, but connecting to the SSID for my home failed, and prompted me to update the password. Typing in the same password did not allow the device to connect either time. I needed to delete the SSID from the settings, and add it back in.
This was tricky on the iPad Pro, because the WiFi networks you connect your devices to get saved in your iCloud account. Removing it from one device removes it from others, which meant I needed to reconnect my iPhone and my laptop too.
Having done so, this number has reduced itself down to a more reasonable value: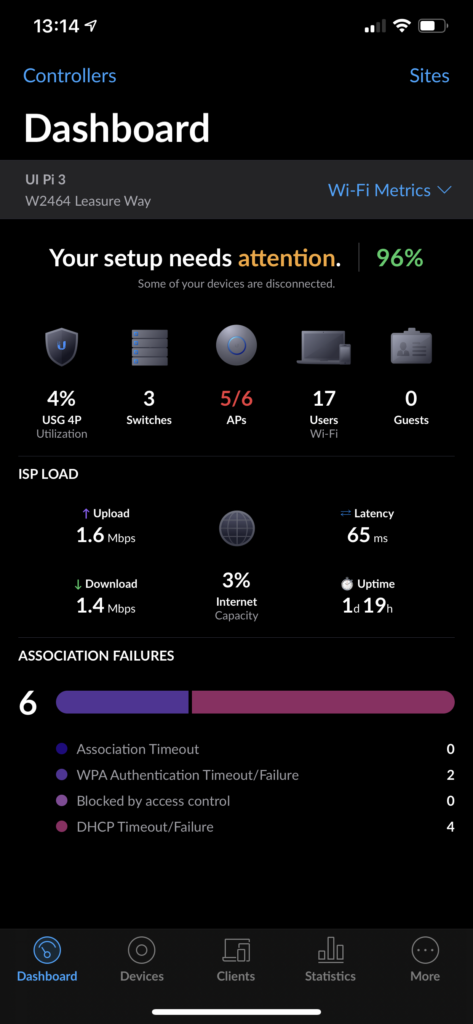 It would be nice if the Network Controller logged failed attempts to access the network somewhere. I get that this could probably be easily spammed, but it isn't a super good experience to show off some huge scary number without any indication as to what is going wrong or what to do about it.
Maybe a future version will open this up for us!